we are a creative
experiential agency
Budweiser
INTERIOREXPERIENTIAL CAMPAIGN
Kings of culture
BUDX is going all out for Super Bowl 2020. An unforgettable weekend curating the stories of creators from all over the world via a progressive program of events where international celebrities and cultural influencers could meet, affiliate, discover, and share while experiencing the world's most-watched sporting event. Aimed at breaking down boundaries between different artistic principles and physical disciplines, embracing the spirit of collaboration to empower others and reflect upon local urban culture.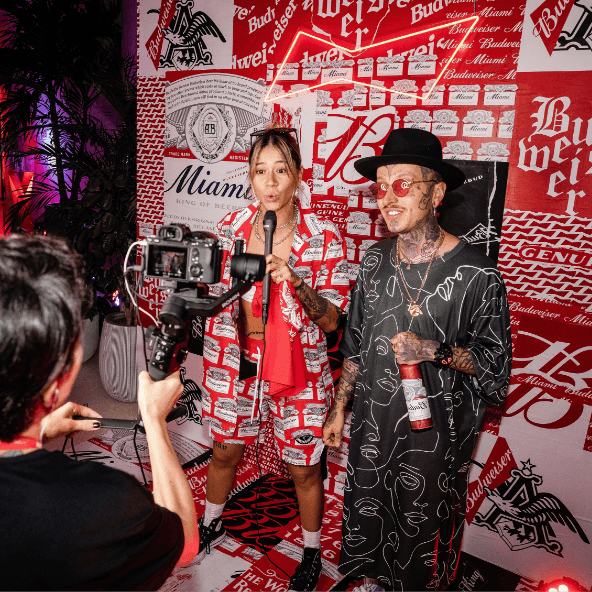 Brief
Build a platform that allows Budweiser to collaborate with influential creators within the music, fashion, art, or sports industry that have a community of followers. Through these collaborations with true "kings of culture", Budweiser inspires others to "Be A King", encouraging individuals to express themselves with confidence and break barriers and stereotypes.
Concept
Establishing various event entities included a 360º hotel take-over and a waterfront mansion party that proudly welcomed world stage and sound heroes - De La Soul, Channel Tres, Black Eyed Peas, Halsey, and Diplo. Giving the stage to 200 Kings of Culture from 21 countries for the sake of cross-pollination and inspiration.
Result
Creating epic experiences and a platform for genuine engagement in the most Instagrammable of ways. Bringing together 200 'Kings of Culture' from over 21 countries. Don't you love team sports!
Awards
Experiential Winner | EX Awards | 2020
Gold & Silver | Best Event World Awards | 2020
Grand Prix | Best Live Experience Agency| Global Eventex Awards 2022
2x Gold & Silver | Global Eventex Awards | 2021