we are a creative
experiential agency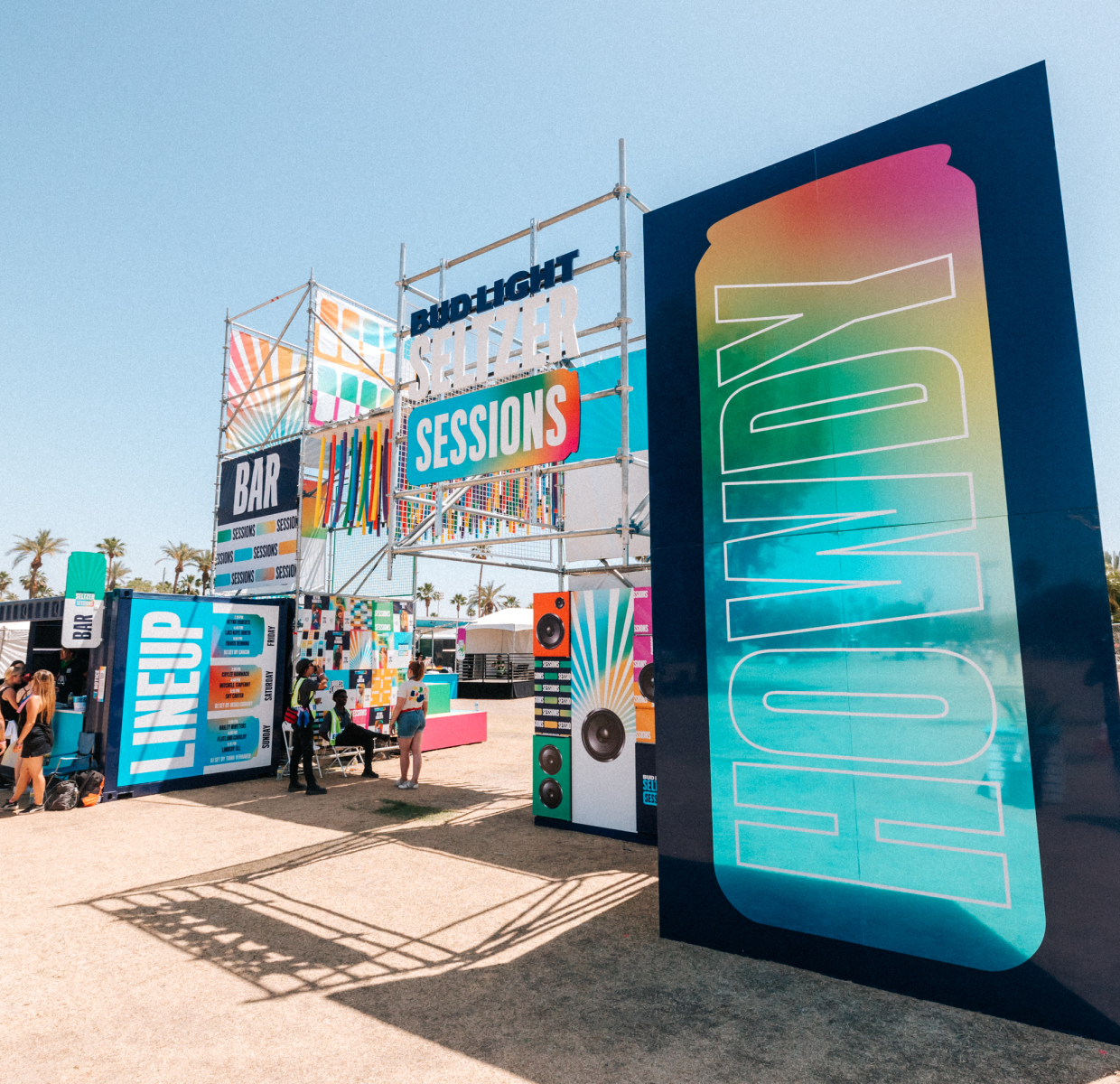 Bud Light Seltzer
FESTIVALEXPERIENTIAL CAMPAIGN
'22 Summer Seltzer Tour
On a sparkling summer road trip through the biggest festivals in the US, WINK brought to life a bubbly, branded playground of uniquely flavored experiences for fans to discover a new frontier of fun.
'It all starts with a great line up. But once you have those artists playing on your stage, you need elements that make people linger – and discover' says Marije Hobo, art director at WINK.

'That means things like beverages, merch, spaces to connect, things to discover alone – and together.'

So naturally, when Bud Light asked WINK for a way to make festivals even more fun, we knew the right ingredients to infuse into the mix.

An identity with real flavor

Bud Light Seltzer Sessions originated as a one-off activation – but since its success, we were asked to take the show to even bigger stages with different types of music lovers at each. That meant a modular, scalable design language.

WINK worked closely with Bud Light to craft a bubbly, bold identity that was able to be tailored for touring. With customized messaging for each event, every touchpoint possible was Bud Light Seltzer flavored – creating a deeper level of relevance to the audiences while at the same time keeping its true taste intact.

Content at the core

An experience needs identity – but it also needs ways to amplify itself into the social sphere. Bud Light Seltzer Sessions is designed as a catalyst for user generated content. Think phones in the air to film artists playing with the bold visual identity framed in every short. Think selfies with speaker boxes and seltzers in hand.

How? Within the branded playground at Stagecoach (pictured) visitors could engage with all kinds of things going on at the festival as well as listen to upcoming artists on stage. This was supplemented by colorful, modern installations like speakerbox fridges containing refreshing new flavors. Then to add a customized takeaway layer, visitors could even silk screen print a customized bandana.

From route 66 to 99

Bud Light Seltzer Sessions is the kind of convoy you want to see travel the states. Thanks to its scalable and customizable design philosophy, the experience has hit Stagecoach festival already, with the Governor's Ball (NY) and Lollapalooza on its itinerary as well as tonnes of others of different sizes and shapes.
It's gonna' be one hot seltzer summer.
SERVICES
Execution-Design-Content-Strategy
LOCATION
United States