we are a creative
experiential agency
Wrangler & LEE are brands
of VF Corporation
Wrangler | LEE
HOSPITALITYPRODUCT LAUNCH
A celebration of two tribes
Hand in hand, side by side. The kings of cowboy Wrangler meet workwear legend Lee, atop a shared stage. Launching the new season in style and cementing the newly reclaimed heritage of both brands in a made-to-measure setting that saw WINK designing and producing a fashion show, product presentations, plenary sessions, and plenty of good times, times two!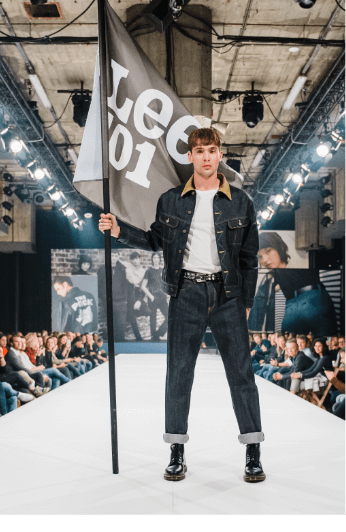 Brief
Conceive and create a holistic concept that enables VRF's sister brands Wrangler and Lee to present new denim and apparel collections simultaneously under one roof. Honor the brief while acknowledging the need to stay true to brand DNA.
Concept
Presenting a tale of two titans, introducing the brands inside a tableau vivant-inspired fashion show that allowed both entities to claim space and shine. This shrink-to-fit theme facilitated storytelling sessions, product presentations, and workshops that inspired and educated while making sure to throw in the team time good vibes.
Result
Achieved the impossible. Housing two brands under one roof without any fashion faux pas. Facilitating the greater good and empowered a moment of shared success for these two magnificent indigo icons.